ScottFromWyoming wrote:
I was futzing around with the TV and brought up a channel that had some movies on it and I know Charlie hadn't seen Captain America: Winter Soldier because it never came here, I don't think, so I turned it on and went about my business... Toward the end in a serious moment I just busted up laughing and Charlie was all "?"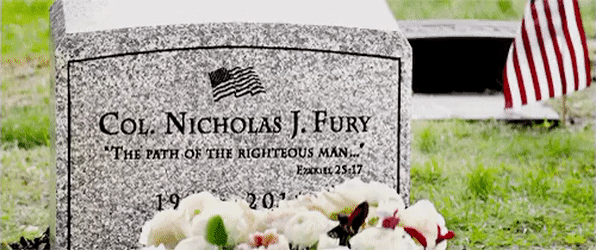 Nick Fury: played by Samuel L. Jackson. So I showed him the relevant clip and now he's hot to see Pulp Fiction. lol no. I told him in a couple of years we'll sit down and watch it. Last night he theorized that it's old enough that someone should remake it. I said that movie wouldn't be worth watching without the same director and most of the same actors.
Thanks for this. looking forward to my kids being old enough to watch this with me.
So far, it's mostly been old Hollywood films. We did watch Guardians of the Galaxy which they enjoyed.
One of my favourite bits in Pulp Fiction is the Foot Massage dialogue. Always makes me laugh. Went to see it when it came out. Remember thinking it was cool to have a film with action and those weird, weird moments, and which also didn't not take its audience for idiots.
And thank you for the tombstone, I hadn't found that particular egg when watching The Winter Soldier. As for the Ezekiel clip, I sometimes use it in class (they're all over 18) to illustrate the difference between /low/ and /law/
Cheers Scott. :-)
P.S. How old is Charlie?