kcar wrote:
rgio wrote:
kurtster wrote: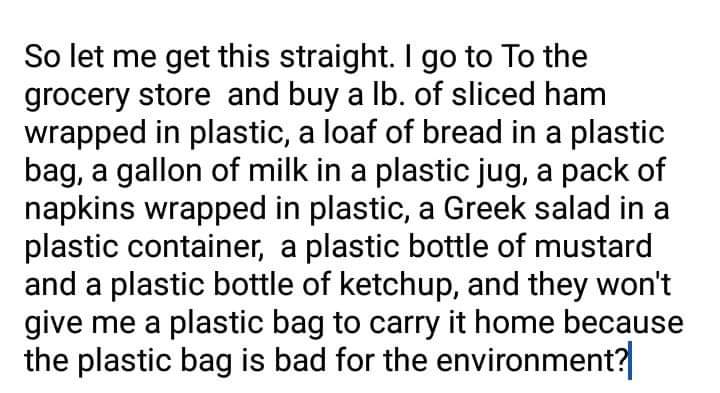 Kurt, we finally agree on something. I'm skeptical that the bag bans on a town by town basis do much. NJ has one coming in a few years, which makes a bit more sense. As others noted, bags find their way into everything...everywhere.
I would totally agree with taxing plastic based on its environmental impact. Charge $1 for a plastic bag at the grocery store. See how long it takes for people to change.
I think it's interesting that you post this in the Democratic Party thread. I'd guess it was delivered to you with its own biases and assumptions.
My opinion is based on anecdotal eyeball evidence:
Before DC imposed a 5-cent charge for plastic bags, they were
floating on the streets and sidewalks all around town.
After the tax, they disappeared.
I paid that 5-cent charge once at the grocery store and it stuck in my craw. The store sold re-usable cloth bags for 99 cents and let you exchange worn-out ones for new bags. I have a huge stash of 'em at my place.
I noticed the same thing at, of all places, the dump. The fences and trees around the place were covered with the damn things, stuck like tumbleweeds. Staff would periodically clean them off - a considerable expense passed along to taxpayers. After the ban started, much fewer bags = much less expense. We've since moved to a place without a bag ban, and they're the single most common plastic trash item. Worse, they're often stuck in difficult-to-reach places. At least heavier plastic trash is generally on the ground. Sure there's always gonna be jerkwads who dump their trash roadside, but at least it stays mostly in one place, instead of floating hither and yon.
I still have mixed feelings about bag bans, but anecdotal evidence shows they reduce visible trash.
c.