miamizsun wrote:


random thoughts

i don't know a lot about that guy off the field but kaepernick probably had good intentions with less than "thoughtful" execution

in the charity fundraising world working with a stadium in the concession is gold

the reason (here anyway) that a beer cost ten dollars at the stadium is because about half of that goes to the charity staffing it

there's an ecosystem around big sporting events, from the peeps selling beer, soda, water and peanuts walking up and down the stadium stairs, the people selling other trinkets, shirts, etc. to the folks in the parking lot selling stuff (probably parking too)

it doesn't stop there, local sports bars offer food and transport to and from the games and watch parties

i'm sure i'm glossing over some other vendors but i think you can get the idea

his actions probably have an unintended effect on a lot of people depending on that income

lots of emotions around the act too (some people like veterans probably see kneeling during the anthem as a sign of disrespect)

if i was trying to influence someone to consider my point of view i'd do a couple of things:

first don't insult/demean/disrespect them

second make my best case by being inclusive (police violence affects everyone)

third partner with human rights groups, celebrities, etc and call a news/press conference

fourth isolate/focus the concern (get to the point) and offer to engage those highly influential and directly involved (police chiefs, mayors, politicians, etc.)

fifth offer solutions and further dialog

off the top of my head but i'm sure we could come up with more suggestions

regards


I generally agree that you want to sway people to your side. But this issue had been and continues to be a festering would. There have been many peaceful calm aplogetic attempts to engage in a dialogue and the problem persisted. He felt he had an opportunity to use his platform for a louder message.
Initially he sat for the anthem. After a conversation with a fellow player who was a veteran Marine he switched to the kneel to show respect. I won't try to speak for everyone who didn't receive the message, but I will say there are many who would never receive this message no matter how it was delivered.
Here are police now kneeling with protesters: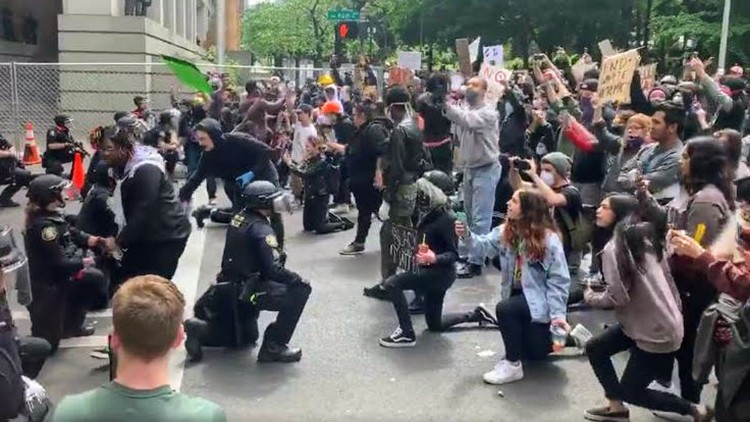 respect and solidarity. Why is it that is respectful, but not from Kaepernick? Could he have done things better? - sure. Would it have mattered? - I doubt it. We are here today because we (collectively) were not willing to listen to the message he was sending and chose to quibble over the delivery.
So will we hear the message this time? Or will we continue to complain that it is not presented in the manner we are willing to hear it? How loud do you think it will get before we hear?